Search Articles
Recent Articles

0
Studies
Jan 26 2018 10:55 PM | Resource Manager in
Studies
Updated File - By One Man - January 2018



By One Man – A compilation of evidence from Christadelphian writers demonstrating that God-directed evolution (GDE) is incompatible with Bible teaching and the BASF
This updated version of By One Man is provided to ecclesias as a resource to enable brothers and sisters to clearly see the consistency of Christadelphian teaching on this subject, from Bro Thomas to the present.
There is nothing new in this document. It is not an attempt to foist upon the ecclesial world a new teaching. Rather, it is designed to uphold Bible teaching, Christadelphian teaching (on creation, the first man and woman, the nature and consequences of the fall, the devil, the atoning work of our Lord Jesus Christ and the purpose of God with mankind) and the BASF (including, in Australia, the Cooper-Carter Addendum).
It says no more, and no less, than has been stated in the past by many leading Christadelphian writers in numerous standard Christadelphian works and in our leading magazines. The material in
By One Man
provides easy access to the views expressed by these writers so that readers can be assured that the foundation beliefs that they were baptised into remain Christadelphian teaching despite recent challenges to them.
By One Man
has also been written as a ready reference and a deposit for future generations to consult, whenever subjects of this nature arise, to give them an understanding of Bible and Christadelphian teaching and the confidence to not be "carried about with every wind of doctrine" (Eph 4:14).
Any comment on fellowship matters in
By One Man
is based on Scripture, the Australia Unity Agreement, the Ecclesial Guide and Christadelphian precedent.
Compared to the first edition released in May 2017, this updated edition includes a new fifth section on our understanding of the Devil (diabolos), and hence quotations by the same set of Christadelphian writers on this subject (see Key index table below). Some additional quotations for the first four sections were also found, and hence included in this edition
It is hoped that
By One Man
will assist readers to maintain long-established Christadelphian teaching. The ultimate aim of
By One Man
is to glorify our Heavenly Father and our Lord Jesus Christ and to establish true unity in the ecclesial world based on the truth of God's word and an honest acceptance of the BASF as it was intended to be understood by those who wrote it.
By One Man
and the supporting
Supplementary
documents contain hyperlinks so that the information under each heading listed in the Contents page can be easily accessed by clicking on the heading. To return to the Contents page readers can click on either the 'Home' icon or the 'Contents' icon at the bottom of the section that has been accessed.
Colin Byrnes
January 2018
View attachment: KeyIndexTable2.png
Note: Please refer to page 15 of the main document to access the hyperlinked version of this table.
View attachment: ByOneMan_22January2018.pdf
View attachment: ByOneMan_Supplementary_22Jan2018.pdf
Read story →
0 comments





May 07 2017 12:59 PM | Resource Manager in
Studies
By One Man
A compilation of evidence from Christadelphian writers demonstrating that God-directed evolution is incompatible with Bible teaching and the BASF
The issue briefly stated
Christadelphians have always believed and taught that the first man of our human race was Adam who was created by God from the dust of the ground. Eve, the first woman, was created from Adam's side. Adam and Eve are the sole progenitors of our entire human race. God created them with a natural body of life that was very good in kind and condition. Their sin resulted in God punishing them with a physical change in the condition of their natural bodies so that they became mortal (subject to death) and sin-prone. Subsequently the mortal and sin-prone condition of their nature is physically inherited by all their descendants.
It is Christadelphian belief and teaching that the purpose of God in Christ was to remove the effects of Adam's fall. Christ was born with the exact same nature that had come in consequence of Adam's sin, which, like us, was his misfortune and not his crime. By his life of perfect obedience and his ultimate sacrifice on the cross he voluntarily declared God's righteousness by demonstrating that the nature he bore was by divine appointment rightly related to death, even in his case. By our own actions we become sinners and stand in need of forgiveness of sins before we can be acceptable before God. If we have faith in what God has done in Christ, recognize that as members of Adam's race we are rightly related to a dispensation of death that has come as a result of Adam's sin, then God is able to forgive our sins. If we consistently try our best to put the flesh to death and live to God, then we will be rewarded with immortality when Christ returns. Jesus will rule over the earth for a thousand years with the objective of completely removing the problems of sin and death that were introduced by Adam's sin, and at the end of the millennium our human race will be completely restored to fellowship with God that was originally lost, when sin and death will be no more, all will be immortal, and God will be all in all.
These vital doctrines of how sin and consequently mortality entered into the world, and God's plan of removing both, have been challenged by a small number of brethren. These brethren, in an effort to reconcile evolution with the scriptures, have propagated worldwide, via the Internet, the view that a race of humans evolved from primordial animals and existed both before and alongside Adam and Eve and their offspring. Adam's offspring supposedly married into the evolved human populace whose nature was identical with that of Adam and Eve's children. Therefore, they claim that human nature, afflicted by mortality, a predisposition toward sin, disease and suffering was in the world long before Adam and Eve. They argue that the origin of our human race is merely shared with Adam and Eve, and there was no physical change in the condition of Adam's nature, that is inherited by all his descendants, in consequence of his sin. This means that, in their view, the nature Christ was born with, and hence the reason his Father required him to publicly put this nature to death on the cross, had nothing to do with the consequences of Adam and Eve's sin.
Such a view would undermine the righteousness of God and completely destroy Christadelphian teaching on the atonement and the purpose of God in Christ. It is therefore a serious challenge to the foundation teaching of the Bible, Christadelphian teaching, and our basis of fellowship - the BASF and (in Australia) the Cooper-Carter Addendum (CCA).
Downloads
View attachment: ByOneMan_09May2017.pdf
View attachment: ByOneMan_Supplementary_09May2017.pdf
Read story →
0 comments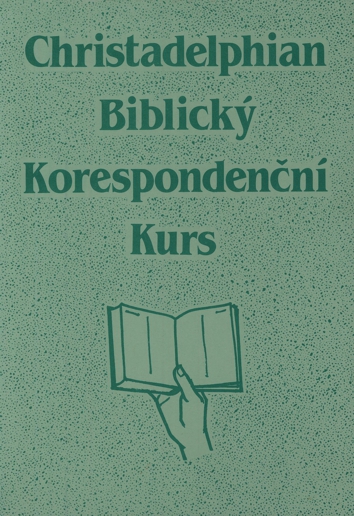 Jun 19 2014 12:42 PM | Resource Manager in
Studies
CHRISTADELPHIAN BIBLICKÝ KORESPONDENČNÍ KURShttp://cbmresources....pondenční-kurs/
Read story →
0 comments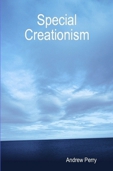 Jan 20 2014 12:00 AM | Resource Manager in
Studies
Book Release
Special Creationism
By Andrew Perry
Read story →
0 comments





Jan 04 2014 02:15 AM | Resource Manager in
Studies
Bible Snippets
Notes from in and around the Good Book
Website
@
facebook
Read story →
0 comments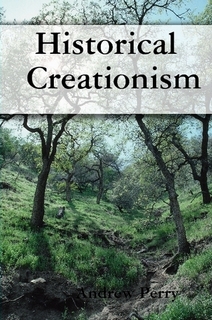 Nov 16 2013 12:00 AM | Resource Manager in
Studies
Book Release
Historical Creationism
By Andrew Perry
Read story →
0 comments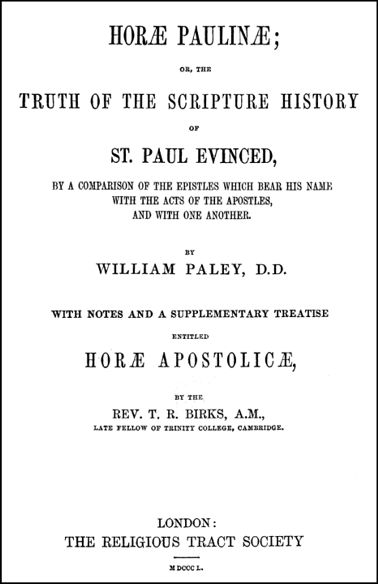 Jan 26 2013 02:05 AM | Resource Manager in
Studies
HORÆ APOSTOLICÆ
OR,
THE INTERNAL EVIDENCE OF THE NEW TESTAMENT.
Horæ Apostolicæ
Read story →
0 comments





Mar 01 2013 02:30 AM | Resource Manager in
Studies
Quality Free Online Bible Study - It is Possible
Kenneth Gilmore
If you want to do serious Bible study, then computer Bible study options are fast becoming the only real option, if only because you can have thousands of books and journals on a single computer which would require significantly more storage space than most houses have. Couple that with the speed with which complex searches across multiple volumes can be performed, along with the ability to access external resources via the internet, and it's easy to see why people such as myself regard 'dead tree' media as a thing of the past.
This of course costs money. No avoiding that. For some, even $20-$30 per month on a payment plan may be stretching a tight budget. There are however options available which while not perfect do allow you to access quality resources for only the cost of an internet connection.
Biblia
, a web application from Logos Bible Software, not only allows users to access most of their library via a browser interface from any computer, but makes freely available a number of Bibles such as:
1881 Westcott-Hort Greek NT

Elzevir TR

American Standard Version

Authorised Version

English Standard Version

NET Bible

NASB 1995

NIV Reader's Bible

New Century Version

RSV

NRSV

NIV

Revised Authorised Version

Lexham English Bible

SBL Greek NT with apparatus
Searching is nowhere near the level you get in the main package, but you do get access to the text of the major English language Bibles, as well as the Vulgate and some of the older Greek texts. This alone will save you a considerable amount of money if all you want to do is read the text, and do basic non-morphological searching.
One hidden treasure is the
German Bible Society
, which offers free access and searching (after free registration) of the NA27 Greek NT, the BHS Hebrew OT, Rahlfs Greek OT and the Vulgate. In addition, you get either the AV or Luther's German Bible. Having free access to the texts of the standard Greek and Hebrew texts of the Bible is quite useful if you're literate in these languages, but admittedly this does tend to exclude most casual readers.
Great Treasures
allows you not only to read up to five Bibles and Greek texts in parallel, but allows you to search in either English or Greek, select words and get their lexical definitions. The interface is frankly ghastly on small screens (1074x768) but on larger screens, this should not be as large a problem. Once again, free registration is required.
If you're after a Greek and Hebrew interlinear Bible, then
BibleStudyTools
is reasonably useful. Apart from displaying the texts (AV / NASB and Gk/Heb) in parallel, it allows you to click on the words and get lexical definitions, and a breadown of where they occur in the Bible. The Greek lexicon is an eclectic mix of Thayers and others, though it is keyed to Kittel and the Theological Dictionary of the New Testament. The Hebrew is based on BDB / Gesenius, and is keyed to the Theological Dictionary of the OT
The
Perseus Classics Library
is definitely one to add for the sheer variety of texts freely available, coupled with the ability to search them and the availability of the respected Liddle Scott Jones lexicon. The Greek text available is the venerable Westcott-Hort, but given the power of the Perseus Library, the restriction is perhaps forgiveable.
As mentioned before, one thing that you won't be able to get is access to the full text of the major commentaries and reference texts. However, material which can read scholarly-level quality is available. One all-in-one site is
Bookmarks in Biblical Studies
. Caveat emptor, but remember your investment is restricted solely to your time and the cost of your internet access.
I did say that you can't get access to the full text of major recent commentaries. However, Google has digitised a considerable amount of scholarly books. If you're lucky, up to 70% or more of these books can be found via Google Books. Examples include:
The Lost World of Genesis One
Genesis (Commentary by James McKeown)
Inspiration and Incarnation
New American Commentary: Isaiah 40-66
The Theology of Paul the Apostle - James Dunn
Some theological journals are freely available, though often behind a moving time wall, which means the latest year is not available. Two examples include the
Tyndale Journal
and
Perspectives on Science and Christian Faith
.
There are libraries of scholarly journals available - while these are limited to what the scholar running the site has included, given the iniquitous price of journal articles (up to $35 per article if you buy it through the official journal site) anything freely available is always welcome. One good example is
Theodore Hildebrandt's site
, which has many classic journal articles available.
Finally, don't overlook the value of blogs. While these are not peer-reviewed resources, what you do get here is informed commentary on current issues related to Biblical studies, and that's not to be scorned. It helps to select across the theological spectrum in order to avoid getting one view. Blogs that I constantly refer to include:
Evangelical Textual Criticism
Exploring Our Matrix
Diglotting
Euangelion
Earliest Christianity
Biblical and Early Christian Studies
Chrisendom
Larry Hurtado's Blog
The Naked Bible
Paleojudaica
The ASOR Blog
Ritmeyer Archaeological Design
Higgaion
Paleobabble
Faith and Theology
Peter Enns - Rethinking Biblical Christianity
Again, these are not peer-reviewed articles, but blog posts. However, informal commentary from theologians biblical scholars, archaeologists and other related professionals is of no little use, particularly if you've heard something sensational from the mainstream media (as theologically illiterate as it is scientifically), so they're a good reference if you've heard something which proves/disproves the Bible, or whatever.
Finally, it would be remiss of me not to mention the single best site for freely-available Christadelphian books which is maintained by Joshua Carmody -
Christadelphian Books Online
.
Original Article
Read story →
0 comments





Jan 03 2013 12:18 AM | Resource Manager in
Studies
Rightly Dividing the Word
A review of arguments used in 'All One'
Jonathan Burke (revised edition 2012)
Link for File for Download
Introduction
This book examines arguments raised by brother Ian and sister Averil McHaffie in their book 'All One In Christ Jesus' (2010 edition). A number of issues and arguments related to the subject of their work, are also examined.
The purpose of this work is to test a particular case being made, and to assess its credibility. Evidence is placed before readers and they are invited to assess the case for themselves and reach their own conclusions. Readers will not find here:
An argument that readers must hold a certain position in order to be consistent with Scriptural teaching: instead readers are left to weigh the evidence Scripturally in prayer, for themselves
An attempt to intimidate readers by associating any particular view repeatedly with apostasy, church tradition, feminism, or misogyny: instead readers are encouraged to assess each view on its own merits
A promotion of my personal views on the subject: instead readers are invited to assess the evidence, compare it with Ian and Averil's claims, and decide for themselves1
Readers should also understand that this work is not an unsolicited criticism. It is a response to Ian and Averil's own appeal for others to read their work and respond:
'We continue to welcome constructive criticism of anything we write, and will be happy to correct anything which can be demonstrated to be in error.'2
-------
1
I choose not to make a promotion of my personal views, because my own personal views are irrelevant; it is the responsibility of each individual to determine their own understanding of the Scriptures, and I have no desire to impose my interpretation on others or claim that it is the only valid interpretation and that all those who disagree are apostate.
2
'All One', p. iv (2010).
Forum Link
Read story →
0 comments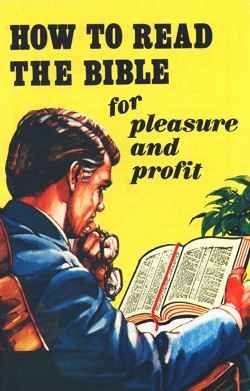 Oct 28 2010 01:12 PM | Resource Manager in
Studies
HOW TO READ THE BIBLE
for pleasure and profit
HERALD OF THE COMING AGE
WHY READ THE BIBLE?
The Bible is a storehouse of divine truth which will repay reading whether it be approached merely because of its literary value, its ethical teaching, or its practical bearing on everyday life (e. g. the Proverbs).
But for those who are prepared to study the contents of this wonderful volume with the object of learning what God desires of them, it offers present and future blessings beyond the ability of man to assess (Rev. 1:3), for "eye hath not seen, nor ear heard, neither have entered into the heart of man, the things which God hath prepared for them that love Him" (1 Cor. 2:9).
This, however, requires study, that faith might be established and increased. "The natural man receiveth not the things of the Spirit of God, for they are foolishness unto him; neither can he know them because they are spiritually discerned" (1 Cor. 2:14). With study there will be developed a love for the Book, and for its Author whose love will be revealed therein, and by this influence the Reader will be led to radiate that same love to others. Therefore, this divine Book is the greatest power for good in the hands of man — if it be read with understanding.
HOW TO READ BIBLE for pleasure and profit
"All Scripture is given by inspiration of God, and is profitable for doctrine, for reproof, for correction, for instruction in righteousness; that the man of God may be perfect, throughly furnished unto all good works"
(2 Timothy 3:16).
In 1610, an event took place in Great Britain, destined to greatly influence the character and history of the English-speaking world.
The Authorised Version of the Bible in English was published for the first time.
It was designed for use by all: from the common laborer to the learned scholar; and though, for a time, the public did not quickly respond to its use, ultimately it became generally accepted, to help mould the lives of millions of people. Many words, expressions, and sayings of the English language have their origin in this version of the Bible.
Most significant of all, it has revealed to many the requirements of true worship, and shown the way to life eternal.
It can have a profound influence upon us, so governing our lives that it becomes more than the Bible, and can be viewed as our Bible. It can provide personal comfort now, as well as leading to life eternal in the future. Many have endured bitter persecution and death itself rather than turn from the teaching of the Bible. It has meant more than life itself to them. Why?
Because, having read it with understanding, it has enabled them to live with purpose in view, providing them with a source of happiness for the present, and stimulating faith and hope for the future. They have "tasted and seen that the Lord is good" (Ps. 34:8); and having been strengthened to cope with life's problems and frustrations, have learned to live richer, more satisfying lives as a result.
What a contrast this is to the hopeless, aimless wandering of most people. Many have cast off all recognition of God, or His word, and refuse to submit to His demands. Are they happier for so doing? By no means. They experience an insatiable hunger for something they know not what. In desperation they seek a form of escapism from the dull monotony of an existence without purpose. Many turn to drugs. Others, through sheer boredom seek to end it all. Suicide is becoming more and more frequent in this age of materialism which has debunked God. The Bible has the answer to some of the greatest problems of life today, if people would but turn to it.
How To Read The Bible
Parts of the Bible are not easy to understand. In fact, they are quite difficult, and some guidance is helpful. Some have felt shocked and disturbed by portions of what they have read therein; others have found some sections mysterious and perplexing. If that has been your experience, do not be discouraged; continue reading, continue to seek carefully for the basic message contained therein, for the prize is well worth while.
But do not read impatiently. God has nothing to offer people who are in too much of a hurry to consider His words. Read carefully and with concentration to gain the point. Unfortunately, many people go to the Bible with preconceived ideas about what it teaches; others tire quickly when any effort of concentration is required. Remember, the Bible is God's revelation to man, and that "His thoughts are above our thoughts, and His ways above our ways" (Isa. 55). Therefore, read slowly to get the sense; take time to think upon what you have read; keep a notebook by your side to jot down verses that impress you.
And read by plan. We can supply you with a plan of daily readings of the Bible that will take you through the Old Testament once, and the New Testament twice during the course of a year. To follow it properly, you will need to set aside a regular time for Bible reading each day; and you may find that difficult. But persevere. By the exercise of will-power and self-discipline you will be able to regularly set aside the twenty minutes a day that our plan requires, and thus help to read yourself rich in the things of God.
Bible reading can become a habit — it is a habit worth cultivating.
Outline Of The Bible
The word Bible means Book. But it is no ordinary book that you take up in your hands when you pick up the Bible. Notice the two words on its spine: Holy Bible. The word "holy" means separate, and as Bible means Book, you have in your hands a book that is unique from all others.
The Contents Page shows it as divided into two parts: the Old and New Testaments. The word "testament" means covenant. The teaching of the Bible is based upon covenants of promise that God made with faithful men in times past. It teaches that "Jesus Christ came.... to confirm the promises made unto the fathers; and that the Gentiles might glorify God for His mercy" (Romans 15:8-9). Again: "There are given unto us exceeding great and precious promises; that by these ye might be partakers of divine nature, having escaped the corruption that is in the world through lust" (2 Peter 1:4).
These promises have relation to the plan of salvation that God has designed for "whosoever" will respond to His invitation. Their fulfilment will take place at Christ's second coming. However, the division of the Bible into Old and New Testaments is man-made. Actually the whole Bible is the revelation of God, and is one complete and indivisible book. Some claim that the Old Testament became out-dated when Christ appeared 1900 years ago, but that is not so. The New Testament constantly refers the reader back to the Old. Christ, in preaching, told his listeners to "search the Scriptures" (John 5:39), by which he meant the Old Testament. He appealed to those same Scriptures to expound the things concerning himself:
"Beginning at Moses and all the prophets, he expounded unto them (the disciples) in all the Scriptures, the things concerning himself"
(Luke 24:27).
The Bible will never be properly understood if the Old Testament is neglected. The Gospel, itself, is based upon an Old Testament promise: "God preached the gospel unto Abraham, saying, In thee shall all nations be blessed" (Gal. 3:8). Much of the Old Testament is prophecy, today being fulfilled, or about to be fulfilled.
The Contents Page also reveals that the Bible is comprised of 66 different books. It is actually a library of books containing history, poetry, philosophy, prophecy, precept. It reveals the character of God, His message to humanity, His plan of salvation, His purpose for the future.
This is not set forth in the dry and sterile form of a creed, but in living records of individuals and nations. It records promises made to them, revelations given them, prophecies proclaimed concerning their future.
The Bible reveals man for what he is. You see not an ideal man (except in the Lord Jesus) but the real man. The man revealed to us in everyday life, stripped of all camouflage. An earthy creature; rapacious, cruel, self-willed, governed by desires that God teaches we must learn to control if we would please Him. But not all are like that. The Bible also provides records of men and women who have learned to control themselves through the means that God provides in His word.
The Bible invites you to identify yourself with those great heroes of the past, developing a character pleasing unto God, in the sure and certain hope of a resurrection to life eternal. For Godliness "has promise of the life that now is, and of that which is to come" (1 Tim. 4:8).
The Bible Is Based On Israel
Because of great promises made to faithful Abraham that involved his descendants (see Gen. 12:2; 13:15), the Bible is based upon the land and people of Israel. It shows how that God chose the people of Israel as His peculiar treasure above all
people (Exodus 19:5-6), how He guided them, educated them, revealed His will to them, in order that they might reflect His glory, and that they might be equipped to pass on to others the message of His plan (Deut. 28:9-10).
But, as Jeremiah the prophet, sorrowfully recorded, "They would not hear" (Jer. 13:11).
In consequence, God disciplined His people. He overturned the throne of David, and scattered the Jews "into all nations" to humble them. But that was to be only for a limited time. The throne was overturned only "until he come whose right it is" to rule over Israel (Ezekiel 21:27). That one is the Lord Jesus Christ. He was born, and died, as "King of the Jews" (Matthew 2:2; 27:37); for his mother was promised that He would reign upon the restored throne of David, over the Jewish people (Luke 1:32-33).
He must return to fulfil that promise. The Apostles were told:
"This same Jesus, which is taken up from you into heaven, shall so come in like manner as ye have seen him go"
(Acts 1:11).
The Bible records how that Palestine was coveted by other nations. It became the battleground of the Egyptians, Assyrians, Babylonians, Persians, Greeks and Romans, as each in turn struggled for world supremacy.
Today, Arabs and Jews quarrel over it, whilst behind them, the Communist and Democratic blocs of nations watch their own interests.
The land of Israel truly has been described as "the heart of the history of the world."
That certainly is the case today: particularly with the world so dependent upon the oil of the Middle East.
Israel failed through "lack of knowledge" (Hosea 6:6); but God prophesied that He would restore the people to the land in preparation of great changes in the future (cp. Ezekiel 37:21-22). The modern revival of Israel is in fulfilment of these predictions. It witnesses to the imminent return of the Lord Jesus to the earth (see Psalm 102:13-16).
Bible reading can help you to better understand the significance of the great, dramatic events of our own times, for they fulfil Bible prophecy.
Not A Dull Book
Though it may be difficult to understand in parts, the Bible is not a dull book. It records many exciting incidents in graphic, dramatic prose. We are appalled at the wickedness of Sodom on the eve of its destruction, and sympathise with the concern of Lot as he tried to awaken his relations to the seriousness of the crisis about to engulf them — to find that this is typical of the times we live in (see Luke 17:26-33). We learn of the glory of Israel in the days of Solomon when it was the mart of nations, and the wealth of the world flowed into Jerusalem, and to the great Temple that was opened there for worship - to find too, that this foreshadows the future (Isa. 2: 2-4). We feel the agony of Jerusalem, as we hearken to Jeremiah's cry of anguish for the stricken city, smitten because of the wickedness of the people - to find that a merciful God will restore and spiritually rejuvenate His ancient people (see Jer. 31:31-37).
There is nothing dull in this Book when it is read aright.
The ancient civilisations of Egypt, Babylon, Persia, Greece and Rome pass in succession before us. We learn how that the purpose of God requires the rise and fall of nations (cp. Dan. 2). We hear the groaning of Israelites in Egypt (Exod. 1); travel with Daniel the exile to mighty Babylon (Dan. 1); stand with Paul on Mars Hill below the temple-enthroned Acropolis in Athens, and listen to the Apostle's stirring exposition of the purpose of God (Acts 17:22-31); listen to the tramp of Roman legions as they march against Jerusalem to destroy it Luke 21:24).
The person who derides the Bible as dull has never read it properly!
Bible history is a vivid, rapid-moving story. The Red Sea opens up and Israel is saved through water; Joshua marches into the land of Canaan and conquers it in faith matched by courage; Gideon with his selected few destroys the innumerable hosts massed against him, and continues on "faint but pursuing" until victory is his (Judges 8:4); David is elevated from shepherd boy to a world dominion; Amos the herdsman indicts the sophisticated court of the king, and pronounces God's judgment against wickedness and idolatry; Peter, on the housetop, receives a dramatic vision to teach him that God's goodness is available to all, both Jew and Gentile; the wonderful message of a risen Christ who is to return again as King over a world at peace, "turns the world upside down" (Acts 17:6), and changes the course of human history.
A dull book? Not a bit of it!
Consider the writers. They were drawn from every class of society: kings and peasants, doctors and fishermen, princes and herdsmen, poets and laborers, rich and poor, educated and illiterate. Use was found for all. Each in his own way, like the individual instruments in a great orchestra, played his own part to produce a symphony of glorious melody, proclaiming the purpose and mercy of God to perishing humanity. As these servants of God were drawn from all stratas of society, so their writings are designed to appeal to those of all classes.
Yet there is no disharmony. Though they were divided by class, period, country, and disposition, there is wonderful harmony in all they wrote. There is no contradiction, no disagreement.
Whence came this wonderful unity? From God! They all wrote by divine inspiration. They were God's agents, proclaiming His message unto humanity, a message summed up in the words of John 3:16:
"God so loved the world that He gave His only begotten son, that whosoever believed in him should not perish, but have everlasting life."
Why Contention Over Its Teaching?
If such unity exists in the Bible, why is there such disunity among men as to its teaching?
Because men have sought to impose their ideas upon the Bible. They have read it with pre-conceived notions in mind, and have searched its pages to find texts to give seeming support to their teaching. The result is religious confusion, and many have turned from the Bible. Contradictory doctrines are dogmatically taught, causing many to give up the search for truth in despair. But the way of life eternal has never been easy. It has ever imposed a challenge on those seeking it. In the past, men were challenged with active persecution; today they are met with ridicule, apathy and error. In previous days the Bible was burned, and men threatened with the Inquisition if they dared set forth the truth; today they have to manifest moral courage in the face of opposition, confusion and scorn.
The Bible foretold that this would be the case.
It predicted that the time would come when the so-called Christian world would be as antagonistic to its truth, as was the Jewish world in the days of the prophets.
Here is a typical prophecy, foretelling the present apostasy:
"The Spirit speaketh expressly, that in the latter times, some shall depart from the faith, giving heed to seducing spirits, and doctrines of devils; speaking lies in hypocrisy; having their conscience seared with a hot iron; forbidding to marry, and commanding to abstain from meats, which God hath created to be received with thanksgiving of them which believe and know the truth"
(1 Tim. 4:1-3).
One of the wealthiest and most popular churches of Christendom has been noted for forbidding its priests to marry and commanding its followers to abstain from meat on certain days. The Bible predicted that this would be the case, hundreds of years before Catholicism decreed this as the policy of the church.
It demonstrates that a church can be styled "Christian, " and yet reject the principles of Christ.
Here is another, similar prophecy:
"The time will come when they will not endure sound doctrine; but after their own lusts shall they heap to themselves teachers, having itching ears; and they shall turn away their ears from the truth, and shall be turned unto fables"
(2 Timothy 4:2-4).
This is a warning against seductive doctrines taught in the name of Christ, but which do not conform to his true teaching. Christ, himself, distinguished between a "true worshipper" and a false one, and declared that God seeks those to worship Him who do so "in spirit and in truth" (John 4:23).
The responsibility for carefully sifting the evidence, and separating the true from the false rests upon each one as an individual.
What God Requires Of Us
Some teach that it does not much matter what we believe, so long as we are genuine in motive. They allege that so long as we accept that Christ lived, died, and rose again, so long as we manifest a little "Christianity, " read a little of the Bible, go to church occasionally — all is well.
The Bible does not speak that way.
It declares that a sound belief of the simple fundamentals of God's purpose is essential to salvation. It teaches that the Gospel is "the power of God unto salvation, to everyone that believeth" (Rom. 1:16); that "life eternal" is bound up in a correct understanding of the truth "concerning the only true God and Jesus Christ" (John 17: 3), and that "without faith" (which comes from "hearing the word of God" - Rom. 10:17), it is "impossible to please God" (Heb. 11:6).
Christ commissioned his disciples:
"Go into all the world, and preach the gospel to every creature. He that believeth and is baptised shall be saved; but he that believeth not shall be condemned"
(Mark 16:16).
Paul taught Corinthian believers:
"I preached unto you (the Gospel), which ye have received, and wherein ye stand; which also ye are saved, if ye keep in memory what I preached unto you, unless ye have believed in vain"
(1 Cor. 15:1-2).
These scriptures clearly show that God requires His servants to understand and believe His purpose, as a condition of salvation.
Why does He demand this?
Because His primary intention is not merely to teach us or to save us, but to change us. He does this through the moral example of Christ, and the influence of his teaching. Both are designed to wean us from the flesh, and reveal divine character-istics in us. Christ, himself, prayed on behalf of believers: "Sanctify them through Thy truth; Thy word is truth" (John 17:17).
The Bible is designed to change us mentally and morally, in preparation for a physical change to life eternal at Christ's coming. That is one reason why the Bible is somewhat difficult to comprehend. God desires us to "think" upon these things (Phil. 4:8), that our "profiting may appear to all" (1 Tim. 4:15). The Bible is designed to cause us to think in conformity with God's ways, and so change our way of life.
Read story →
0 comments